---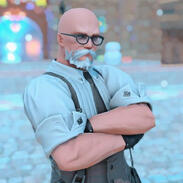 Uncle Vanzel
---
FF14 Housing Enthusiast
---
Contact Information
Discord: @Vanzel#6291
Twitter: @Uncle_Vanzel
Commission Info
---
Status:
Waitlist
---
PRICING
Small - 15m
Medium - 25m
Large - 40m
*Furniture costs not included
TERMS & CONDITIONS> Commissions are accepted upon discussion and provided that the idea is something that also appeals to me, as I strive to provide high quality to all projects.> Mostly 1-Floor-only designs.> No bars, no clubs, no casinos, no big venues.> No replicates/copies of other FF14 designs.> Respectfully avoid entering the house while the designing is in progress.>Yard/Exterior: No extra fees. Only the cost of furniture.>A base gil budget will be required for vendor items/dyes.
Rest furniture options:
1)Crafted by owner or
2)Gil budget provided to buy all items from Marketboard.> Any Datacenter availability.> No issue whether the house will be locked or open for visitors, up to owner's preference.>Fee payment preferably before the start of the design.> I reserve the right to decline requests, if it is something I do not feel comfortable with.
Portfolio
---
HIGHLIGHTSBelow follow some projects.
Refer to Housingsnap for complete works and/or join Discord server for extra concepts, break-it-downs, consults etc.
---